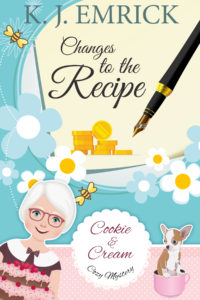 A Murder at the Retirement Home… A Missing Woman… And Missing Money!
Cookie can't believe it when Jerry tells her that her friend Sheila Tucker is dead. Everybody loved Sheila and she didn't have an enemy in the world… or so Cookie thought.
Sheila must have had at least one.
So who could have hated her enough to throw her from the balcony of her room at the retirement home where she lived?
If murder wasn't bad enough… Sheila's daughter is also missing and so is Sheila's secret fortune.
Can Cookie and Jerry solve the mystery before anything else happens?
Now Available
Amazon US – http://amzn.to/2vswDOW
Amazon UK – http://amzn.to/2vs6Q9E
Amazon AU – http://amzn.to/2uUWiym

All other stores – https://www.books2read.com/u/m0xxQY

To celebrate the release of Book 4 – Changes to the Recipe books 1,2 and 3 are on special for .99 cents for a very limited time.
Book 1 – http://amzn.to/2wgyVNF
Book 2 – http://amzn.to/2tZlTHB
Book 3 – http://amzn.to/2tZ3gU9
All other stores
Book 1 – https://www.books2read.com/u/bp666m
Book 2 – https://www.books2read.com/u/4N1ZoJ
Book 3 – https://www.books2read.com/u/bQZjG6