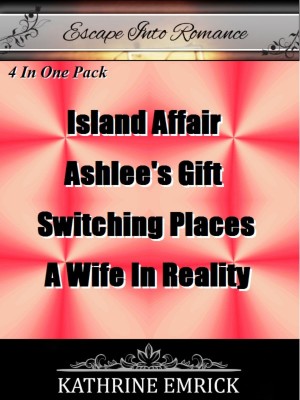 About the Book
Escape Into Romance 4 In One Pack
Island Affair:
When Lacey decides to resign from her job things don't go quite as she planned. She finds herself agreeing to spend the week between Christmas and New Year with her boss on his private island.
Things seem like they are going great until her boss gets a phone call that changes everything. Alone and devastated Lacey goes home for a visit with her Father to try and put her life back together.
But once again things don't go quite as she planned.
Ashlee's Gift:
Ashlee Garner returns to her hometown after the death of her father. Overwhelmed by sorrow and guilt, she quickly realizes that something is desperately wrong.
The community center her dad founded over thirty years ago is in serious trouble, donors have pulled out and she finds out that her father was drowning in a huge amount of debt. The center will need to be sold leaving the kids that play basketball there with nowhere to go.
She also gets a surprise when she finds out that Scott Daniell is living in her fathers house. She was unaware that her father had a lodger. She thinks that he looks familiar but can't place where she has seen him before. Attraction immediately sparks between the two of them.
Ashlee and Scott work together to find an alternative for the kids from the community center, but Scott has a secret he is keeping that could end the fledgling relationship before it has even really begun…
Switching Places:
Angela Gray has been spending a lot of time with her new online friend. He's told her a lot about himself but she has to wonder what he's really like.
A surprise trip to Sydney, where he's supposed to have his own computer business, gives her the opportunity to meet him. She wonders if he'll be anything like he is online. Or if he'll like her. Little does she know it's been his son talking to her all this time.
Matthew Unger has every intention of coming clean to Angela. Until he sees her. And falls in love.
A Wife In Reality:
Steven Saddler is about to star in a reality show to find a wife. His grandfather left a stipulation in his will that if Steven doesn't get married by the end of the year, he can't inherit anything. Including the house.
As the single father of two children Steven decides to use the show to find a wife quickly so his kids can be provided for. The only problem is that he needs someone to watch them while the show films.
Enter Holly Bratton. Steven hires her as a nanny for his children. She turns out to be so much more. In his search for a reality-show wife, is Steven missing a real chance at love?
Disclosure of Material Connection: Some of the links in the page above are "affiliate links." This means if you click on the link and purchase the item, I will receive an affiliate commission. I am disclosing this in accordance with the Federal Trade Commission's
16 CFR, Part 255
: "Guides Concerning the Use of Endorsements and Testimonials in Advertising."