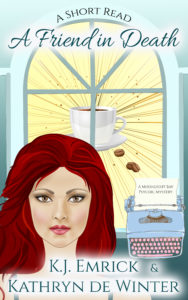 Introducing Miranda Wylder… A Psychic/Medium and Crime Novelist who inadvertently gets tangled up in Murder!
Miranda Wylder is on her way up. Life is good for the Psychic/Medium Crime Novelist with one successful novel already and a second on its way up the charts.
But then her best friend, Kyle Hunter, is murdered right in her own backyard and the detective in charge of the investigation seems determined to put her in the frame.
She has to convince the police of her innocence so she must use her intuition and deduction, along with help from Kyle's ghost, to discover the truth behind the murder and to see the true Killer behind bars.
In this Psychic Mystery, can Miranda overcome this terrible truth to see justice done?
Available NOW!
Amazon US
Amazon UK
Amazon AU
iTunes
Barnes & Noble
Kobo